Annual calendar of activities and events
To give you a clear picture of what's going on at Buchinger Wilhelmi Marbella all year round, we have put together an annual calendar of activities and events, sorted by subject.
We hope you enjoy browsing!
We are looking forward to welcoming you.
*All events are free of charge as part of our Buchinger Wilhelmi program.
FEBRUARY 2024
How to cope with difficult emotions in times of worldwide crisis
Course with Tulku Lobsang Rinpoche
February, 3rd and 4th, 2024
In this ever-shifting world, change is the constant force shaping our journey. Life's beauty and challenges are intertwined, requiring us to accept the unpredictable. Instead of resisting change, we should be able to recognize that while change is inevitable, the power lies not in stopping it, but in choosing the kind of change that elevates us.
This transformative force, when harnessed with the right perspective, turns suffering into strength. Change, starting from within, not only shapes our destiny but ripples outward, uplifting the collective spirit. In the power of the present moment, we can recognize that every change, no matter how small, has the potential to shape a brighter tomorrow and that the key lies in understanding the inherent impermanence of life. It is a journey of self-discovery, where the practice of contentment and letting go emerges as the compass, guiding us through the flow of life.
In this teaching, Tulku Lobsang Rinpoche will guide us through the possibilities and the power of change; and how embracing change helps us to deal with the difficult emotions that most of us are facing in the current times of worldwide crisis.
The venerable Tulku Lobsang Rinpoche is a high precious Buddhist master. He was born in the province of Amdo in northeastern Tibet and was recognized as the 8th incarnation of the Nyentse Lama at the age of thirteen.  Rinpoche bases his teachings on the ancient Tantric knowledge that has been the foundation for Tibetan Buddhism, Medicine, Astrology and many popular healing techniques.
Having a profound knowledge in these matters, Rinpoche now presents to the world the knowledge of his venerable lineage, integrating various disciplines in one, as they originally were. His high concern is to reduce the suffering in the world throughout cultural exchange.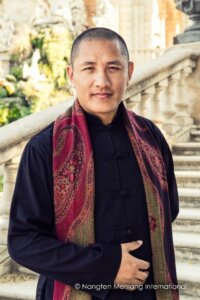 "We can't stop change,
but we can choose what kind of change we want."
Tulku Lobsang Rimpoche