Are you looking for inspiration for Christmas gifts that are not only beautiful, but also useful?
We have some ideas for presents that are good for your body and for your soul, and will make your life a little bit more relaxed and healthier. In other words, gifts that are entirely in the spirit of Dr. Otto Buchinger, our founding father! And best of all, they are ideal for those friends and family who already have everything they need.
We recommend that you order early to avoid longer delivery times due to the coronavirus pandemic.
Download interactive order form
Alternatively, you can also order directly by email: klinikshop@buchinger-wilhelmi.com
Cookbook: A pleasure a day
As people are working more from home and have fewer social obligations, they have more time to get behind the stove and cook. Our cookbook "A pleasure a day" is the perfect gift that not only answers the question, "What should I cook today?", but is also a great opportunity to eat more healthily!
Hubert Hohler, head chef at Buchinger Wilhelmi in Überlingen, and Fernando Sánchez, head chef at our clinic in Marbella, have written this book to introduce you to the art of healthy cooking. Their recipes will kindle a passion for healthy nutrition.
The cookbook is the joint effort of an international team of Buchinger Wilhelmi chefs, our nutritionists and doctors. Our recipes present a new interpretation of healthy wholefood cuisine.
The cookbook is available in German, English, French and Spanish.
Price: €39
Another idea for a recipe book from our head chef Hubert Hohler is "The Joy of Sustainable Eating". Try eating in a healthier, more environmentally friendly and socially responsible way. "Sustainable" means being considerate to people, animals and nature – and ultimately to yourself.
Price: €19,95
Organic care products: shower gel, shampoo, body lotion and conditioner,
Why not give someone care products that are good for your skin, hair and the environment! You may be familiar with our care products from your last stay at our clinic on Lake Constance or in Marbella. Our Buchinger Wilhelmi shower gel, shampoo, body lotion and conditioner can now be purchased from our clinic shop. They are also available as a set in high-quality gift wrapping with our flower design, especially for Christmas.
All the products in our new, natural cosmetic care series are produced in Germany and have been developed in close cooperation with a German pioneer in organic skin care. All products are certified organic, vegan, made without animal testing and are climate neutral, and have been awarded the highest accolade of COSMOS ORGANIC for this. You can feel this high quality on your skin: The products are made with high-quality, plant-based ingredients for a gentle cleanse. Here you can find out exactly what is in the different care products.
Our organic care products can be purchased individually or as a set.
Price: shower gel €19, shampoo €19, body lotion €24, conditioner €24
Puro plaid
Puro is Christian Fischbacher's answer to perfect luxury.
Experience an exquisite, snug, all-year plaid made of fine baby alpaca, one of the rarest and softest fibres in the world. The accurate weave underlines the natural character of this unique composition.
Colours: charcoal, cream, denim, amber

Price: €219
Bisou plaid
Made of finest Mongolian cashmere goat hair for an unmistakable soft feeling on your sofa.
The tassels at the lower and upper ends of the plaid set off the plain colours. Modern design in single colours.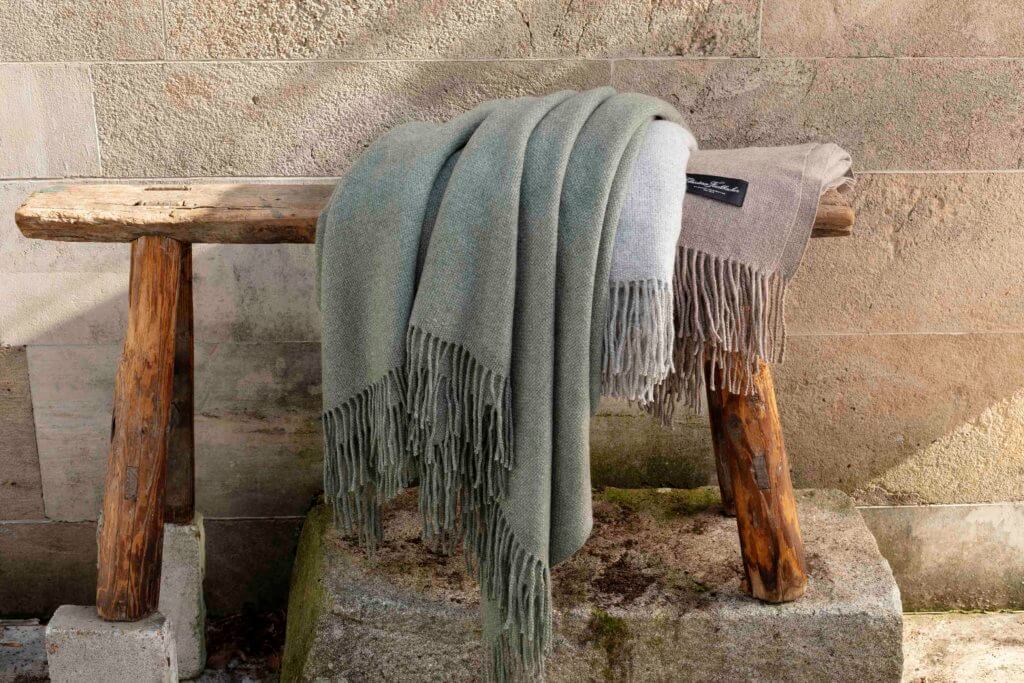 Colours: light grey melange, taupe, lime green
Price: €474
Something for everyone
Are you looking for a present for someone who already has everything? With a voucher from our clinic shop, you are guaranteed to find the right gift for everyone. The voucher can be used to buy various products such as high-quality fashion, accessories, health care products or cosmetics the next time they visit our clinic. Vouchers are available for 20€, 50€ or 100€.
Vouchers cannot be exchanged for cash.
More inspiration required?
Go for gifts that are environmentally friendly and have a positive impact too: You can find sustainable products or lovely handcrafted presents not only online, but also in small local shops. That way, you are not only preserving the environment, but also supporting smaller businesses in your region, helping them through the coronavirus pandemic.
If you want to enjoy a completely sustainable Christmas, from the Christmas tree to Christmas cards and Christmas dinner, see here for more inspiration.
And don't forget the most important thing – to take time for yourself, to reflect and gain new strength after this turbulent year – for example with a relaxing cup of tea.