Experience this very special time of year in Marbella: Our clinic is again open over the holidays – and there are still a few rooms available. Here is an excerpt from our festive programme:
MEDITATION EVENING "ZEN OR THE ART OF LIVING WELL"
10 – 20 December: Introduction to and in-depth examination of the theory and practice of Zen meditation led by Niklaus Brantschen, Jesuit priest, author and Zen master (Roshi). Father Brantschen is the founder and long-standing head of Lassalle-Haus, a "centre for spirituality, dialogue and responsibility" in Switzerland.
---
SPIRITUALITY: WORKSHOP ON SINGING MANTRAS
2 to 30 December: Mantra Japa – Workshop on singing mantras with yoga instructor Manuel Medina.
On Mondays, Wednesdays and Fridays from 7.30 to 8.00 p.m. we invite you to learn some of the most important mantras in the yogi tradition. The mantras will be translated and their significance and beneficial effects explained to you. This highly energetic and spiritual experience is called "Mantra Japa" in India.
---
CREATIVE WORKSHOP
3 to 20 December: On Tuesdays and Fridays, you can create Christmas decorations (woodcutting workshop) and Christmas cards with Enar Cruz, artist and art instructor in the clinic.
---
CUISINE
24 and 31 December: Fernando Sánchez and his kitchen team will treat you to a low-calorie Christmas menu and a special New Year's Eve menu. On 13 December, our nutritionists will also offer a cooking demonstration on the topic of "festive pleasures".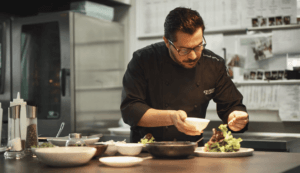 ---
"Dancing the Self" WORKSHOP, (Danzando el Ser)
19 December: With Ignacio Béjar, multi-instrumentalist, composer and researcher in the healing power of world music. Meditation in motion, guided by the beauty and richness of world music (performed live).
---
CHRISTMAS BASAR "ART, HEALTH AND WELLBEING"
On Sunday, 8 December, we will be holding an open day in our garden with artists, friends and employees. There will be an exhibition and we will be selling art objects, handmade creations and books. You can look forward to music, talks on health and wellbeing, live music with the group "The Christmas Songs", juices and teas in atmospheric surroundings.
---
MUSIC AS INSPIRATION
15 December: Choir of many voices from Marbella. Classical and traditional Christmas songs.
24 December: Christmas Eve with a festive menu, or punch for guests who are fasting, singing Christmas carols under the festively decorated Christmas tree and a few words from Katharina Rohrer-Zaiser and Victor Wilhelmi. Accompanied on the piano by Joaquin Castellano.
25 December: Visit from "Pastoral de Ojén" on Christmas morning with traditional shepherds' music. Christmas concert in the evening with the duo Fermata.
31 December: Grand New Year's Eve party with the live band "Las chicas de la Gramola" and a toast at midnight with the Spanish tradition of eating 12 grapes.
1 January: New Year's concert with the duo Chattanooga
We are looking forward to a contemplative and inspiring festive season with you!
What's on over the holidays at lake of constance