Buchinger Wilhelmi's new Online Shop
Our FASTING BOX, care products & more
For more than 100 years, we have helped to improve people's mental and physical health in our clinics. Our holistic concept is based on the therapeutic fasting method developed by our founder Dr. Otto Buchinger. The time our guests spend in our clinics is a healing, beneficial and transformative experience – a feeling many of them would like to take home with them. Even during their stay, numerous patients ask about our body care and massage products, bed linen, or the spices we use.
That's why we have selected the most popular products from Buchinger Wilhelmi and our longstanding partners and made them available for you in our new Online Shop. Now you can simply order more of your favourite products at any time once you get home.
But that's not all. We also have a brand new product for you – our Buchinger Wilhelmi FASTING BOX!
Our FASTING BOX for use at home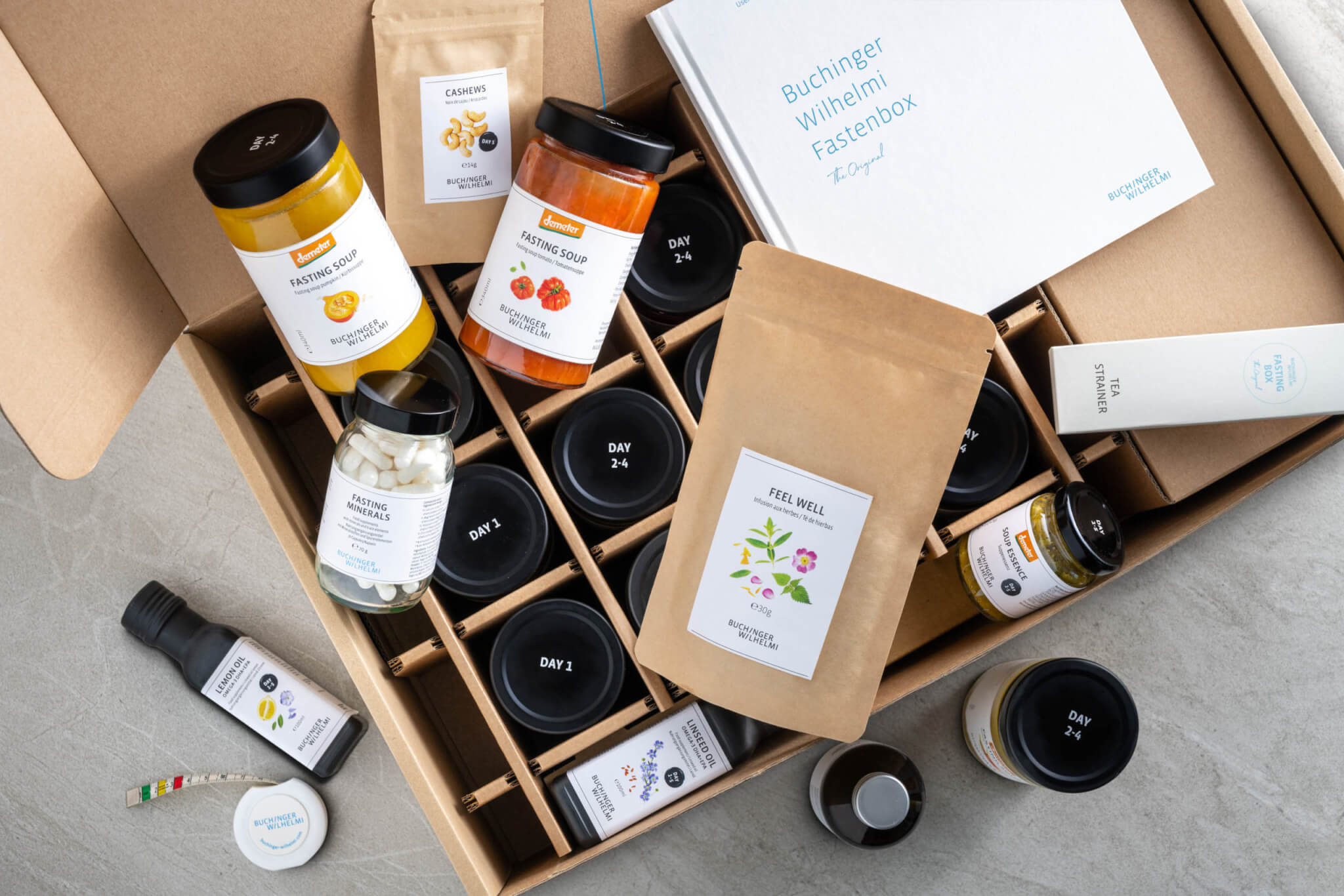 A special highlight in our Online Shop is our new Buchinger Wilhelmi FASTING BOX. It includes everything you need for a 5-day reset at home.
The programme has been developed by our fasting experts especially for you, taking into account the latest research and based on more than 100 years of clinical fasting experience and numerous scientific studies. 
The FASTING BOX is based on the tried-and-tested fasting programme in our clinics – but with the difference that the 5-day plan in the FASTING BOX is designed for use in the comfort of your own home. It will give you a first impression of what it is like to fast at a Buchinger Wilhelmi clinic.

How the 5-day programme works
All ingredients in the FASTING BOX are Bioland or Demeter-certified, when possible regionally and sustainably produced, and gluten-free and vegan, with the exception of honey. The foods in our FASTING BOX are very low incalories and carbohydrates but high in fats, with some proteins, your body will still enter ketosis – one of the desired effects of »fasting metabolism«. Ketosis is a metabolic state that can encourage the regeneration of the body's cells.
Throughout the 5-day programme, we will be there for you at all times and support you every day with e-mails, videos, our User Guide and our online community.
When is the FASTING BOX right for you?
The programme is ideal if you like to change your eating habits, to take some time, or to simply improve your mood. It can be easily integrated into your everyday life and is suitable for resetting your body in-between stays in our fasting clinics or as a way to try out fasting.
Our Online Shop: Everything you need for fasting and a healthy diet
You can find plenty of other products related to fasting in our Online Shop, from classical fasting literature to healthy ingredients and our fasting minerals. We have also included items in our shop that will allow you to take that special Buchinger Wilhelmi feeling home with you.
In the fasting category you will find everything you need to enhance your fasting experience, such as soothing Demeter-certified teas – because it is essential to ensure a sufficient intake of fluids when you fast. Our drink bottles are practical for those who lead an active lifestyle, and can be taken with you when you do yoga or go on a walk. Other products in this category include our special blend of fasting minerals to ensure an acid-alkaline balance as recommended by our doctors to support your fast.
Under the heading of nutrition, we sell certified organic foods such as spreads, spices, oils, soups and much more. And because those who take part in our cooking courses often ask about the utensils we use, we have also put together a selection of high-quality graters, juicers and other kitchen aids for you. You can also find inspiration for healthy and tasty meals in the cookbooks and nutrition guides we have selected for you in the books category. In other words, our Online Shop has almost everything you need for a healthy and balanced diet.
Other products you can look forward to in Buchinger Wilhelmi's new Online Shop
We are often asked about the body care products we have developed together with a German pioneer of natural cosmetics for use in our clinics. You can order shampoo, shower gel, body lotion, sun lotion and more from our Online Shop. All of our care products are natural cosmetics made with certified organic ingredients – vegan, cruelty-free and climate-neutral – that are mostly sourced from fair trade projects.
We will keep you informed about other shipping options and new products in our newsletter.
We hope you enjoy browsing!