WHAT ARE THE ADVANTAGES OF FASTING IN SUMMER?
Fasting in summer: Our tips
We are often asked when it is best to fast. Most people assume that religious fasting periods are the ideal times, and are surprised to learn that any time of year has its advantages whether you are fasting in a clinic or at home.
"The best time to fast is whenever we choose to do so," says Dr. Françoise Wilhelmi de Toledo, the head of our research department. Because ideally, everyone should decide consciously for themselves when, how and where to embark on their fasting journey, and what conditions suit them best individually. In this article, we will talk about the summer and highlighting the advantages of fasting in the warmer months of the year.
We tell you
what to observe when fasting in a clinic or at home in the summer,
what recipes are suitable for fasting at home, and
whether fasting in summer is also possible with our soup-based FASTING BOX
The advantages of fasting in summer
Each season has its own advantages that can help in different ways when you fast. Summer is underestimated by many, as it is seen as a time of late dinners, parties and holidays. Most people would rather feast than fast while on holiday. But if you do find a suitable time slot in the summer, you can benefit from the following advantages, whether you are fasting in the clinic or experiencing fasting at home:
1. Warmer temperatures can make fasting a more pleasant experience
One side-effect of fasting can be that you feel cold and need more warmth than usual. As the body is supplied with less energy during fasting, the blood vessels narrow in order to give off less warmth and save energy. Fasting in the summer benefits above all slimmer people who tend to feel chilly: Thanks to the warmer temperatures, they shiver less in the summer than they would if they fasted in the colder months of the year.
2. Exercising outdoors is usually more fun when it is warm
Whether you fast at home or in one of our clinics, gentle exercises are a key component of a successful fast. Even Otto Buchinger, who developed Buchinger therapeutic fasting and founded our clinic, emphasised the importance of physical exercise when fasting.
Because the days are longer in summer and the temperatures are usually more pleasant, many fasters find it easier to exercise at this time of year. Our clinic guests can choose from a wide range of different outdoor activities for keeping fit on the clinic grounds.
In addition, in good weather they can explore the unique landscape around Überlingen or Marbella on foot or bicycle. Our hiking guides take you to the most beautiful spots – in Überlingen through woodland and meadows and the vineyards bordering Lake Constance; in Marbella on picturesque paths along the Andalusian Mediterranean coast. If you would prefer to fast at home, you may already know the best routes and spots, or you can take the opportunity to discover new, unknown destinations close to home.
Attention! If it is very hot, you should only do sport outdoors in the early morning or later evening. It is also very important that you drink sufficient liquids. If you sweat heavily, a savoury vegetable consommé is recommended in-between.
3. There is a much better choice of seasonal fruit and vegetables for building up nutrition after your fast
After the last day of fasting, it is time to break the fast. Treat your body to several days in which you slowly accustom it to a normal diet. Your intestinal flora will also benefit from a gradual build-up of nutrition with healthy, freshly prepared food. The importance of this period is often underestimated, especially when you fast at home. In summer, you have a particularly good choice of crispy seasonal fruit and vegetables for the time following your fast. It makes it so much more fun to prepare meals. Why not try it out!
Summer ideas for fasting with the FASTING BOX
Our FASTING BOX for your home gives you the chance to experience fasting wherever you are.
Again, many people ask us what time of year is particularly suited to this reset programme. And here again, the answer is, "The best time to fast is whenever we choose to do so."
As the FASTING BOX programme differs from therapeutic fasting in our clinics and has been designed to be easily integrated into your daily routine, it can be repeated several times a year, or even every two months, depending on your personal goals. The tips above for the summer also apply to our FASTING BOX. In addition, we have some suggestions for you that show how you can turn your FASTING BOX into a "summer edition" that is ideally suited to warmer temperatures:
Enjoy the soups cold
The soups in our FASTING BOX also taste delicious cold. Simply enjoy the carrot, pumpkin and beetroot soups chilled on hot days.
Add ice cubes
The soups can also be easily chilled using ice cubes. This will not affect their nutritional value at all. But do not overdo it, especially if your digestive system reacts sensitively to cold.
Drink teas as iced tea
The teas in the FASTING BOX are lovely and refreshing as an iced tea. Just brew a large pot of tea, let it cool down and then refrigerate it. For a special fresh boost, add a sprig of mint, lemon balm or lemon verbena and some rooibos tea.
Recipes before & during fasting
Recipe ideas during the FASTING BOX programme
DURING THE FASTING BOX PROGRAMME
Mocktail "Bloody Mary"
Ingredients for 650 ml (3 larger or 4 smaller cocktails):
Method: Mix all the ingredients together and serve with ice. (Adding celery juice and lupin seasoning will not adversely affect the success of the FASTING BOX programme.)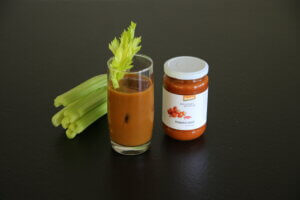 Recipe ideas after the FASTING BOX programme
DURING THE RESET DAYS
Rice salad with the Reset Box
The contents of our reset box can be used to make an easy rice salad during the transition day. Simply stir a jar of vegetables into 1/3 of the cooked rice. You can also add a little vinegar.
AFTER THE FASTING BOX PROGRAMME
Mocktail "Mint Julep"
Ingredients for 930 ml (4 larger or 6 smaller cocktails):
550 ml rooibos tea
4 sprigs of fresh mint and 12 fresh mint leaves
250 ml orange juice
1-2 tbs apple verjuice
130 g ice cubes
Method: Steep 1 rooibos teabag and 4 sprigs of mint in 550 ml hot water for around 5 minutes and leave to cool. Mix the cold tea with the mint leaves and the apple verjuice, fill up with orange juice and serve with ice.
AFTER THE FASTING BOX PROGRAMME
Asparagus polenta
Ingredients for 2 people:
500 g asparagus
1 red onion, diced
100 g polenta
40 g grated cheese
2 tsp rocket
10 ml olive oil
Turmeric
Salt
Lemon zest
Method: Carefully peel the asparagus and cut off the woody ends if necessary. Remove the tips and put to one side. Put the washed asparagus peelings in a pan with one litre of water and boil for around 5 minutes. The asparagus tips can be cooked over them in a steamer. Grate the remaining asparagus and sauté with the onions in a pan (without adding oil or fat). Now add the seasoning and 300 ml of the asparagus stock and bring to the boil. Stir in the polenta and olive oil, bring to the boil again briefly and then leave to soak for 5 minutes. Add the chopped rocket, grated cheese and lemon zest. Season and serve with the sautéed asparagus tips.
Tip: Form the polenta mixture into table tennis-sized balls, place them on a baking sheet and bake for 10 minutes in a pre-heated oven at 160 °C.
We hope you enjoy fasting in the summer!