YOGA TRANSFORMATION RETREAT
Experience the transformative power of yoga at Buchinger Wilhelmi!
The end of the year, especially the Christmas season, is great for letting go of the old, allowing change to happen, and realigning yourself. This intense yoga transformation retreat is your opportunity to do so.
Learn various meditation techniques and breathing exercises, explore your body awareness during yoga classes, and open up new horizons through mantra chanting and much more. It doesn't matter how much yoga experience you have, as you can find your own intensity through the different levels.
We at Buchinger Wilhelmi want to offer you this particularly protected space for your retreat, your spiritual development, and your transformation. Fasting during the retreat can support you in your transformation, but is not mandatory.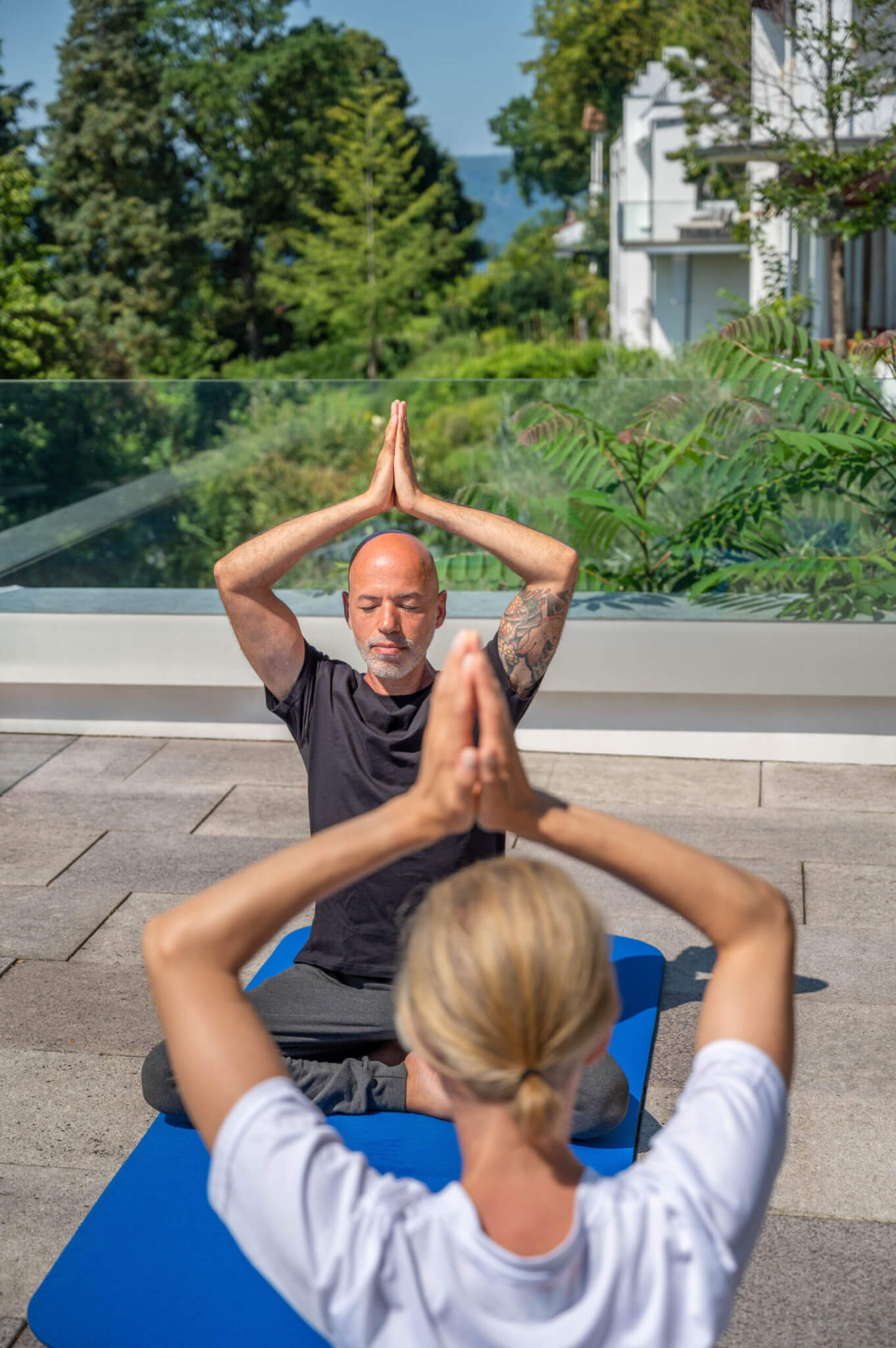 Date
12 – 17 December 2023
About the yoga and meditation instructor
*Gilbert Grimeau is a yoga and meditation instructor. He has practised yoga for more than 20 years as a life philosophy. Gilbert started training as a yoga instructor in the Sivananda tradition 14 years ago. Following this, he completed further courses in modern styles like Anusara, Yin and Vinyasa yoga. His courses are designed to be integral, incorporating elements from various yoga styles. He learned and experienced meditation in various ashrams and monasteries in Germany, India and South America. Since 2021 he has been an Inspiration Coach at Buchinger Wilhelmi, where he offers our guests various meditation techniques from different traditions.
The following classes are planned:
Daily
7:30–8:10 a.m.: Pranayama – Peace Chanting
8:15–8:50 a.m.: Meditation
9:00–10:15 a.m.: Yoga Level I
10:30 a.m.-12:00 p.m.: Yoga Level II
Tuesday, Wednesday, Thursday, Saturday:
5:00-6:30 p.m.: Yoga therapy (digestive system, heart, respiratory system, musculoskeletal system)
Sunday afternoon:
5:00-6.00 p.m.: Dance It Off (Embark on a journey through the elements and move intuitively to inspiring music. Without judgement, you develop your own, individual dance and activate your self-healing powers.)
Thursday, Saturday, Sunday evening:
7:30-8:30 p.m.: Mantra yin yoga / Mantra meditation / Mantra with sound
Language
English
Feel free to contact us if you have any questions about the event or would like more information about staying with us. We look forward to welcoming you soon.