Find your inner balance with yoga on Lake Constance
A fasting cure on Lake Constance gives your body the opportunity to cleanse and reset itself and gain new strength. Gentle exercises as well as spiritual inspiration and mindfulness also boost the positive effects of therapeutic fasting. Yoga and meditation are two methods that are particularly suited to the experience of fasting at Buchinger Wilhelmi.
Yoga and meditation instructor Gilbert Grimeau
Gilbert Grimeau is in charge of yoga sessions at our Buchinger Wilhelmi clinic on Lake Constance. He is a yoga and meditation instructor as well as an Ayurveda therapist, who has practised yoga for more than 20 years as his life philosophy. Gilbert started training as a yoga instructor in the Sivananda tradition 13 years ago. Since then, he has also trained as a meditation instructor and gained experience in various ashrams and monasteries in Germany, India and South America. Following this, he completed further courses in modern styles like Anusara, Yin and Vinyasa yoga. Gilbert regularly organises yoga and meditation retreats in India, Spain and Germany. We are delighted that he is now offering these courses in Buchinger Wilhelmi clinic on Lake Constance.
Yoga and meditation instructor Gilbert Grimeau
Asanas with views over Lake Constance
In the summer months, yoga sessions and guided meditation take place on one of our extensive terraces overlooking the lake in good weather. The peaceful atmosphere and the views of nature will help you to let go of everyday stress and direct your focus inwards, while you learn new aspects of yoga or add depth to your previous yoga practice. Our yoga and meditation courses are offered several times a week.
Yoga lessons at Buchinger Wilhelmi are varied and suited to both beginners and those who have practised yoga before. Variations are offered for each asana, so that both experienced yogis and newcomers can take part and enjoy the courses.
Combinations of different yoga styles
Gilbert Grimeau combines elements from different yoga styles into a harmonious flow in his yoga sessions. Pranayama, a breathing technique, is as much a part of this as elements of Yin, Vinyasa and Hatha yoga.
Yin yoga is a calmer, slower style in which the gentle asanas are held for longer, while in Vinyasa yoga several motion sequences are combined; Hatha yoga is good for inner cleansing as it helps to activate the individual organs; Kundalini yoga comprises exercises that promote the flow of energy in the body.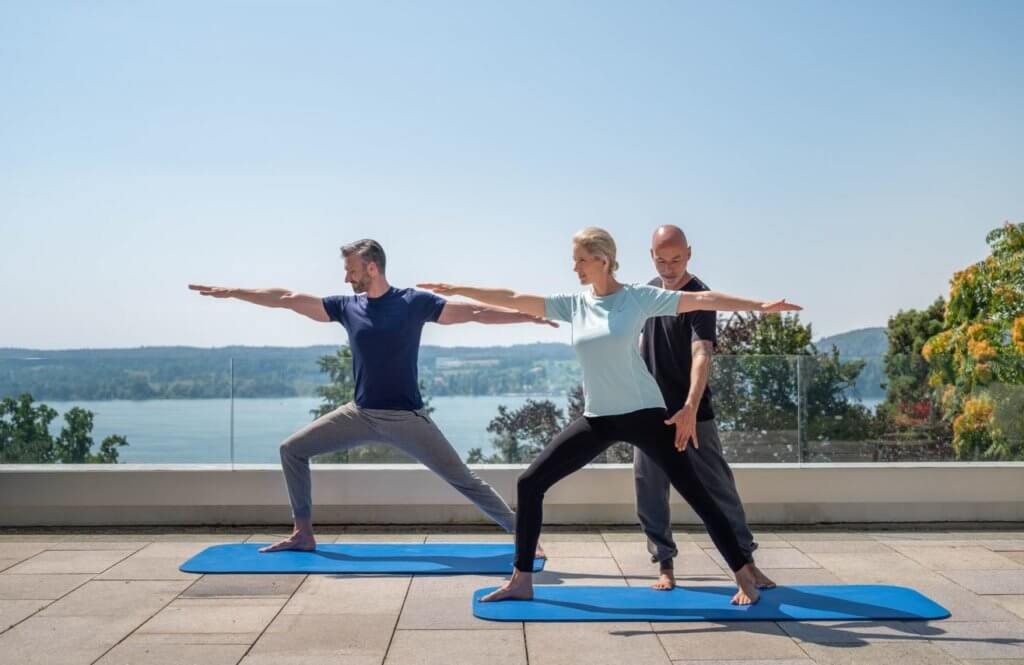 Meditation as an ideal accompaniment to fasting
In our daily lives, it is often difficult to be consciously aware of our own body and keep our minds from being too active. Meditation is an excellent way to increase mindfulness, reduce stress and live a more balanced life.
In our meditation sessions, we offer techniques from different traditions. Again, variations of individual exercises are combined so that both beginners and more experienced participants can take part equally.
Yoga for the immune system
The yoga sessions held in our fasting clinic on Lake Constance are also particularly suited to people who have recovered from Covid-19 or wish to boost their immune system: The combination of breathing exercises and cleansing asanas supports regeneration and has a preventive effect. Not only in times of pandemic, a particular focus in our fasting clinics is on the aspects of inspiration and mindfulness. That's why we would be happy to welcome you to one of our yoga and meditation sessions.
This might also interest you: